Seattle's #1 Drag Brunch
Mimosas Cabaret
Mimosas Cabaret
With your Hostesses:
ISABELLA EXTYNN
Also Starring:
TIPSY ROSE LEE
Robbie Turner
RUBY BOUCHE
VANITY WHITE
Choreography by TIPSY ROSE LEE
Tickets
With your ticket, your first mimosa is only $2!
A brunch buffet is available at the bar for $13 + tax** (Food and Beverages sales are run by the Bar and are separate from the show)
$25.00 premium seating
*Premium seating: We are an over the top raucous show with an intimate theater. ALL of our seats have a perfect sight line and fully immerse you in our show and all of its fun!.
*Special note: Seating is family style and you may be seated with people from another party.
** Special Note II: parties of 6 or more will have assigned seating
***Special note III: We try to have our mini musical run EVERY show but there are dates where the Mini Musical will be preempted.
Tickets are NON REFUNDABLE or EXCHANGEABLE
** The Unicorn/Narwhal IS wheelchair Accessible, simply inform the Bar and they will provide access to the elevator.
The Unicorn/Narwhal is located at:
1118 E. Pike St. on Seattle's Capitol Hill
Tipsy Rose Lee has been off touring in Puerto Vallarta for the past 6 months and now it's time for her to return HOME! We are thrilled to welcome back one f our founding members, lead choreographer and powerhouse star. We have been super excited to hear all about her experiences while in Mexico and you should be too, we know it's been one hell of a season for her. Plus it's EASTER weekend so it only makes sense to throw a bash!
We have also teamed up with Seattle's own, Robbie Turner direct from RuPaul's Drag Race Season 8 to bring you one hell of a fun weekend of shows. Robbie Turner is a Seattle treasure of world class talent and we are thrilled to have her back with us for this special occasion. Robbie is no stranger to the Mimosas family having starred in our production of 30 Minute DreamGirls a few years back, she has also been a guest star a few times including the WIDLY popular Tipsy/Turner Takeover and now she's back again!
Come out THIS weekend and see the fun that ensues at Mimosas Cabaret Starring Tipsy Rose Lee, Robbie Turner, Isabella Extynn and Ruby Bouché!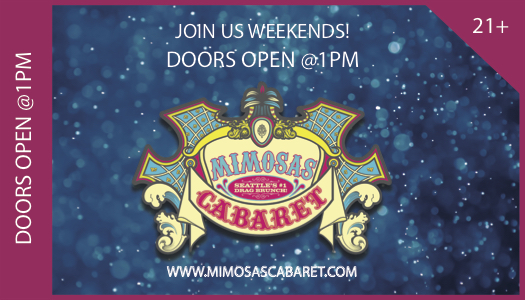 Skyscraper Entertainment presents "Mimosas Cabaret", Seattle's Longest Running and #1 Weekly Drag Brunch. Voted "BEST Theater Group" by King 5's Best of Western Washington for 2014 and 2015!!!
Think of "Mimosas Cabaret" as dinner theater during the day, it's Brunch Theater! We have a breakfast buffet, a brunch menu, a full bar, JELL-O shots and Drag Queens! What more could you ask for on a Sunday?
Let the cast of "Mimosas Cabaret" take you on a crazy, wild, fun journey you never knew you wanted to take. It's comedy, lip syncing, live singing, performance art, audience participation, great food, fabulous drinks and Fierce Queens all rolled up into 1 fabulous show!