Seattle's #1 Drag Brunch
Mimosas Cabaret - Featuring A Boob Job For Christmas!
Mimosas Cabaret
Your Mimosas Cabaret Cast:
MAMA TITS
TIPSY ROSE LEE
ISABELLA EXTYNN
RUBY BOUCHE
VANITY WHITE
Choreography by TIPSY ROSE LEE
Tickets:
****This is a 21+ ONLY Event, unfortunately due to the liquor laws in our state and the establishment's license has we are not able to accommodate anyone under the age of 21.
With your ticket, as a special offer, your first mimosa is only $2!
A brunch buffet is available at the bar for $13 + tax** (Food and Beverages sales are run by the Bar and are separate from the show)
$25.00 premium seating
*Premium seating: We are an over-the-top raucous show with an intimate theater. ALL of our seats have a perfect sight line and fully immerse you in our show and all of its fun!.
*Special note: Seating is family style and you may be seated with people from another party.
** Special Note II: parties of 6 or more will have assigned seating
***Special note III: We try to have our mini musical run EVERY show but there are dates where the Mini Musical will be preempted.
Tickets are NON REFUNDABLE or EXCHANGEABLE
** The Unicorn/Narwhal IS wheelchair Accessible, simply have someone in your party inform the upstairs Bartender and they will provide access to the elevator.
The Unicorn/Narwhal is located at:
1118 E. Pike St. on Seattle's Capitol Hill

Skyscraper Entertainment presents "Mimosas Cabaret", Seattle's Longest Running and #1 Weekly Drag Brunch.
Think of "Mimosas Cabaret" as dinner theater during the day, it's Brunch Theater! We feature a full bar, breakfast buffet (additional and paid at the bar) and Drag Queens! What more could you ask for on a Sunday?
"Mimosas Cabaret - was awarded "Best Theater Group" in 2014 and 2015 by King 5's Best of Western Washington Viewer Poll.

The creative minds behind Mimosas Caberet are at it again, bringing back our smash hit, all original, parody mini musical Holiday Extravaganza!
Skyscraper Entertainment presents "A Boob Job for Christmas"!
"A Boob Job For Christmas"
Starring:
Isabella Extynn
Ruby Bouché
Tipsy Rose Lee
& Vanity White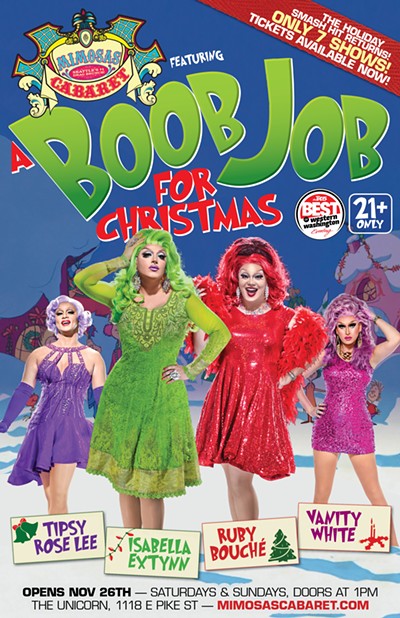 "A Boob Job for Christmas" is BACK for a limited engagement!!
Our first fully original mini musical written by the Glamazon Goddess Isabella Extynn. "A Boob Job For Christmas" is a hilarious and campy retelling of the classic Dr. Seuss's "How The Grinch Stole Christmas". "Boob Job" features several of your favorite Holiday songs as well as a couple brand new original parody songs. Our story follows Green Bitch and Red Bitch in their struggle to embrace the holiday season as they hatch a plan to destroy Christmas but end up learning a valuable lesson in the end.
This campy twist on a classic story features phenomenal choreography by our own Tipsy Rose Lee as well as Live Singing... you read that right, we sing live at Mimosas Cabaret. Coupled with a Seussian style glitter encrusted whimsical sets designed and created by our team of talented elves! Come check out "A Boob Job for Christmas" and see why it has become the perfect new holiday tradition for friends and family.
Mimosas Caberet is known for their Mini-musical adaptations over the past few years including: 30minute Hairspray, 30minute DreamGirls, Wicked WIZ of OZ, Mama Mia, 9to5- ish, 30minute-ish Little Shop, 30minute Chicago and now "A Boob Job for Christmas"!
This completely original adaptation is brought to life with all new lighting design by our very own Ruby Bouché and over the top costuming!
The cast of Mimosas Caberet will take you on a fun filled journey of Holiday Raucousness filled with fabulous live singing, masterful lip-sync, witty comedy and campy sets that will transport you to Who-Ville when Mimosas Cabaret presents "A Boob Job for Christmas"
Come out and see why "Mimosas Caberet" was voted "BEST Theater Group" by King 5's Best of Western Washington in 2014 & 2015!
Here's what people have said about our show:
"Mimosas Cabaret" is THE place to be on Sunday's in Seattle" - Seattle Gay News
"Mama Tits is a proudly plus-sized glamour queen who oversees a slick showcase of old-school drag performance" - The Stranger
"Mimosas Cabaret = Best time ever. These ladies are know how to WERK it. I will be back for more" - Lori M.
"Best. Show. Ever. Totally floored....thank you soooo much! I'll be back and bringing friends" - Naomi K.
"the audience is there to have raucous fun" - The Stranger
"We had a fabulous time! What a great show!!!" - Heidi G.
Come to "Mimosas Cabaret" and celebrate your Birthday, Anniversary, Wedding, and Special Occasion or just come spend your Sunday the right way, Fierce and Fabulous!